Student Highlights
John Livingston
John Livingston "grew up poor," as he says, in Orange County, California and college was "always a faraway dream." Following high school, Livingston married and went to work.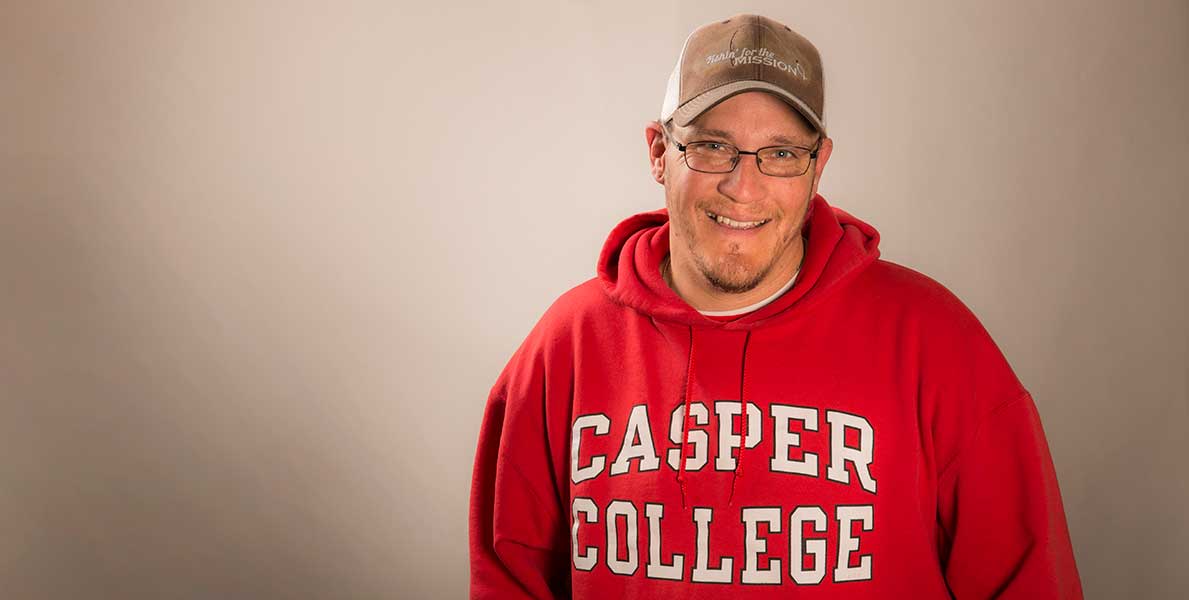 For the next decade, "I did labor-intensive work until breaking my back surfing, shortly after my divorce." Following the accident and surgery, Livingston became addicted to pain medication. The addiction "took hold of me for some time. I made poor choices, became a shadow of my former self, and was estranged from my child and family." Eventually he lost his freedom, then spent a number of years, off and on, homeless.
In August of 2014 Livingston came to Casper and entered the eight-month recovery program offered at the Central Wyoming Rescue Mission. Through this experience and the people he met through the program, "I started to believe my life could change.  I looked into going to school," he says. His original interest was in archeology, but he soon realized that geology was a better career path for someone in his late 30's.
Livingston began classes during the summer 2015 semester and graduated from Casper College in May 2018. While his books and tuition fees were covered with financial aid, he was unsure of how he would be able to cover his living expenses, but thanks to two scholarships that semester he was able to purchase a "modest" laptop and have enough left over to cover food and a phone. More than material goods, those two scholarships provided Livingston with a psychological boost: "Someone believed in me, and was willing to invest their hard earned money into my education and future."
With the receipt of those two initial scholarships, Livingston committed himself to work hard and to not give up. Six credits later, he had a 4.0-grade point average for the summer semester. That grade point average also translated into more scholarships. For the 2015-2016 school year he received scholarships from the Van Burgh Family, Conoco Phillips, Rolland W. McCanne, the Wyoming NASA Space Grant, the Foundation Misc. Award, and Summer Enrichment. In the 2016-2017 year he received scholarships from Carlton and Winnie Belz, Conoco Phillips, Right Track, and Jim and Audrey Bailey.
Following graduation from Casper College, Livingston now plans to earn a bachelor's degree and possibly even a master's degree in geology. Teaching earth science and taking part in research and digs are currently on his radar, though he admits that a career in oil exploration is a possibility too.
Livingston will be the first to tell you that without the generous scholarships provided by the Casper College Foundation he wouldn't be where he is today. "The scholarships I have received from multiple donors have provided me a place to live on campus, a computer, money for expenses, and the ability to work only part-time. It is inconceivable that I would be as successful as I've been without them. I am truly grateful."