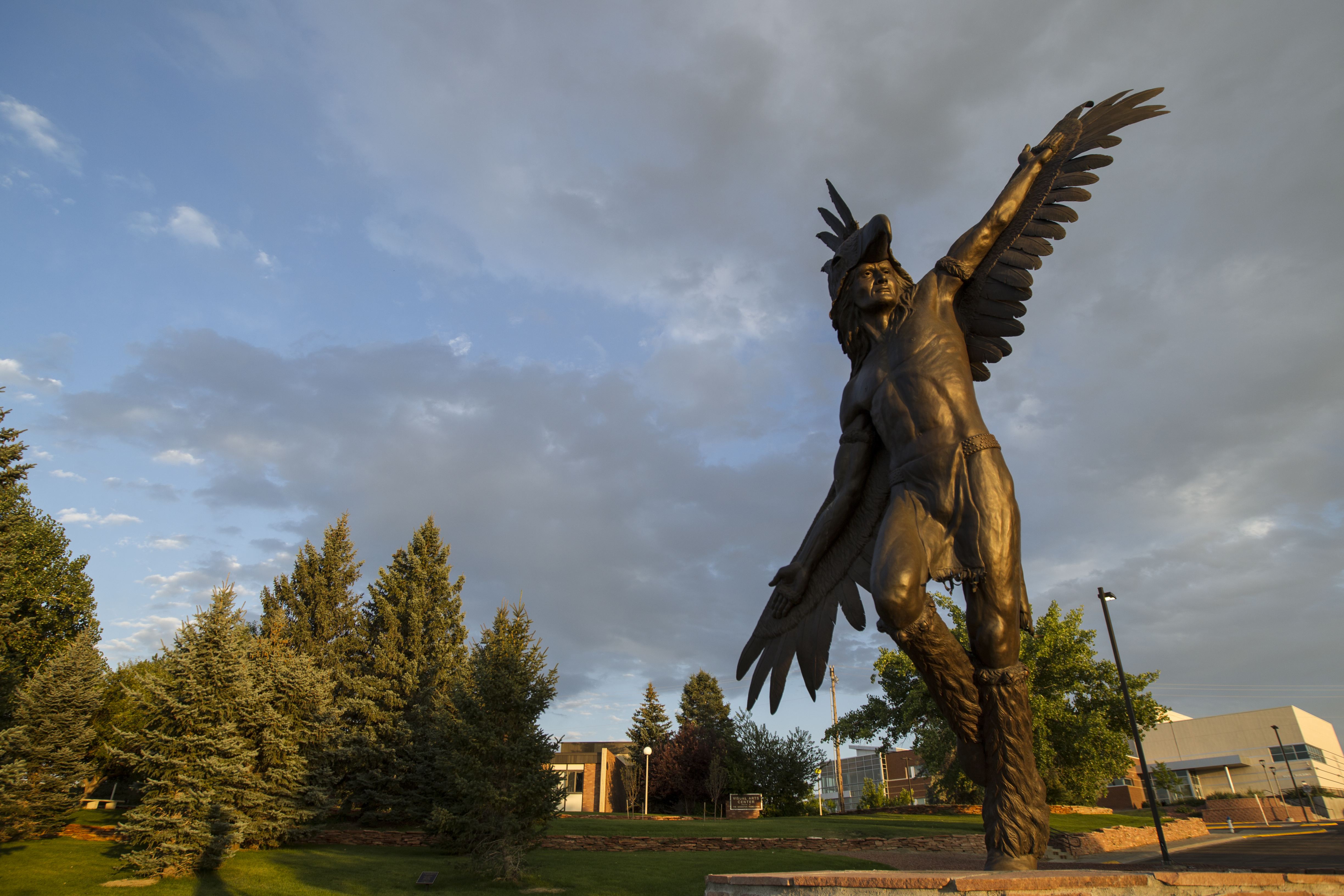 In 1996, Casper College celebrated its 50th anniversary. During the anniversary celebration "The Spirit of the Thunderbird", a monumental brass sculpture by Casper College's own Chris Navarro, was dedicated. There was also a banquet honoring 50 exemplary alumni in honor of the college's 50 successful years. Exemplary alumni were chosen for their commitment to the institution and their success following graduation.
Exemplary Alumni
Honorees
---
---
William A. Anderson


Casper College: 1947-48 A.A, Col. U.S. Army Ret., Engineer.

Ronald A. Baugh


Casper College: 1966-68 A.S, Consulting Geologist

Charlotte M. Babcock


Casper College: 1947-49 A.A., Freelance writer, and poet

Steven L. Bealer


Casper College: 1967-69 A.S., Professor of physiology and biophysics University of Tenn., Memphis

Jude M. Banahene


Casper College: 1981-83 A.S., Senior project engineer Xerox Corporation

Bill B. Brauer


Casper College: 1954-56 A.A., CPA, chairman of the Natrona County Commissioners

Jamal A. Barghouti


Casper College: 1967-69 A.S., Engineer, chief of operations for Conoco

David W. Brock


Casper College: 1969-71, World champion calf roper, an instructor and a competition judge

Mark Cioc


Casper College: 1970-72 A.S., Provost of Stevenson College, University of California, Santa Cruz

Valerie A. Cavender


Casper College: 1983-89/A.A.S '85, Specialist for the court supervision of mental health offenders

Marie Minor Davis


Casper College: 1948-64/A.A. '50, Professional musician (soprano)

Gaye Strausner Cayot
Casper College: 1981-1983 A.S. 
Doug O. Dehning, M.D.


Casper College: 1973-75 A.S., Director of vitreoretinal services

David L. Demorest


Casper College: 1968-70 A.S., Technical director in the development of radiochemical protocol

Hank J. Franzen


Casper College: 1976-79 A.S., Owner Powder River Rodeo Production Company

Eric Dietrich


Casper College: 1972-74 A.S., Professor of philosophy, computers and cognitive science at Binghamton University

Kathy L. Gardner M.D.


Casper College: 1977-81 A.S., Neurologist

Ron Franscell


Casper College: 1975-81 A.A./'78, Writer, newspaper publisher

Patty Boyles Goble


Casper College: 1978-80 A.A., Actress, singer, dancer

Paul E. Hallock


Casper College: 1963-65 A.A., Executive Director of Casper College Foundation

Timothy B. Icenogle M.D.


Casper College: 1971-73 A.S., Cardiothoracic and transplant surgeon in private practice

Delores Jean Hayek


Casper College: 1959-61 A.A., President of the Wyoming Education Association

Raymond Jacquot


Casper College: 1956-58 A.A., Professor of electrical engineering

Georgia L. Huckeby


Casper College: 1958-60, Caregiver at Ferries Funeral Home
Perry Kaufman


Casper College: 1962-64 A.A., Educator

Glenn Mansur


Casper College: 1978-79, Pilot-Engineer United Airlines

Judge Harry E. Leimback


Casper College: 1946-48 A.A., Attorney Judge of 7th district court

Frieda Noell McCoy


Casper College: 1963-65 A.S., (Deceased) Owner/Consultant

Benjamin G. Lockerd, Jr.


Casper College: 1969-70 A.A., Associate Professor Grand Valley State University, Michigan

Lawrence E. Middaugh


Casper College: 1947-49 A.A., Deputy Natrona County Attorney

Rodney Gene Mahaffey


Casper College: 1969-71 A.A., Writer, teacher

Diana Jean Ohman


Casper College: 1968-70 A.A., Educator Wyoming Secretary of State

Jim Milek


Casper College: 1960-62 A.A., Professor of Biology

Kay Williams O'Leary D.D.S.


Casper College: 1964-65 A.S., Orthodontist

Gail Keeney Mulligan, D.D.


Casper College: 1974-76 A.A., Priest

Rodney L. Patik


Casper College: 1981-85/double A.S. '84, Private Consultant
Holly L. Nye


Casper College: 1971-74 A.S. '83, Lt. Cdr. USN, Ret.

James A. Porter


Casper College: 1965-67 A.A., President CPA Firm

Terry R. Spraker D.V.M.


Casper College: 1966-68 A.S., Veterinary Pathologist

Keith E. Propp


Casper College: 1970-71, Scientist Kaman Sciences Corporation

Victor J. Stalick


Casper College: 1956-68 A.A., System Engineer Fujitsu Network transmission systems divisions

Leo Sanchez


Casper College: 1957-59 A.A., Teacher

Jacqueline Carpenter Valdez


Casper College: 1961-63 A.A., Professor of English

LeRoy Strausner


Casper College: 1958-60 A.A., President Casper College

Robert Washut


Casper College: 1969-71 A.A., Professor of Music University of Northern Iowa

David H. Throgmorton


Casper College: 1970-72, Vice President for Academic Affairs Barat College Illinois

Arlen R. Wilson


Casper College: 1960-62 A.A., Labor attache/first Administrator

Katherine Tripeny


Casper College: 1949-51 A.A., Director St. Anthony North Side Center

Karen K. Wulff


Casper College: 1979, '84-'86 A.S., CPA Gerald T. Stack and Associates

H.A. "Hank" True III


Casper College: 1961-63 A.S., Business Owner/Entrepreneur