2022 Distinguished Alumnus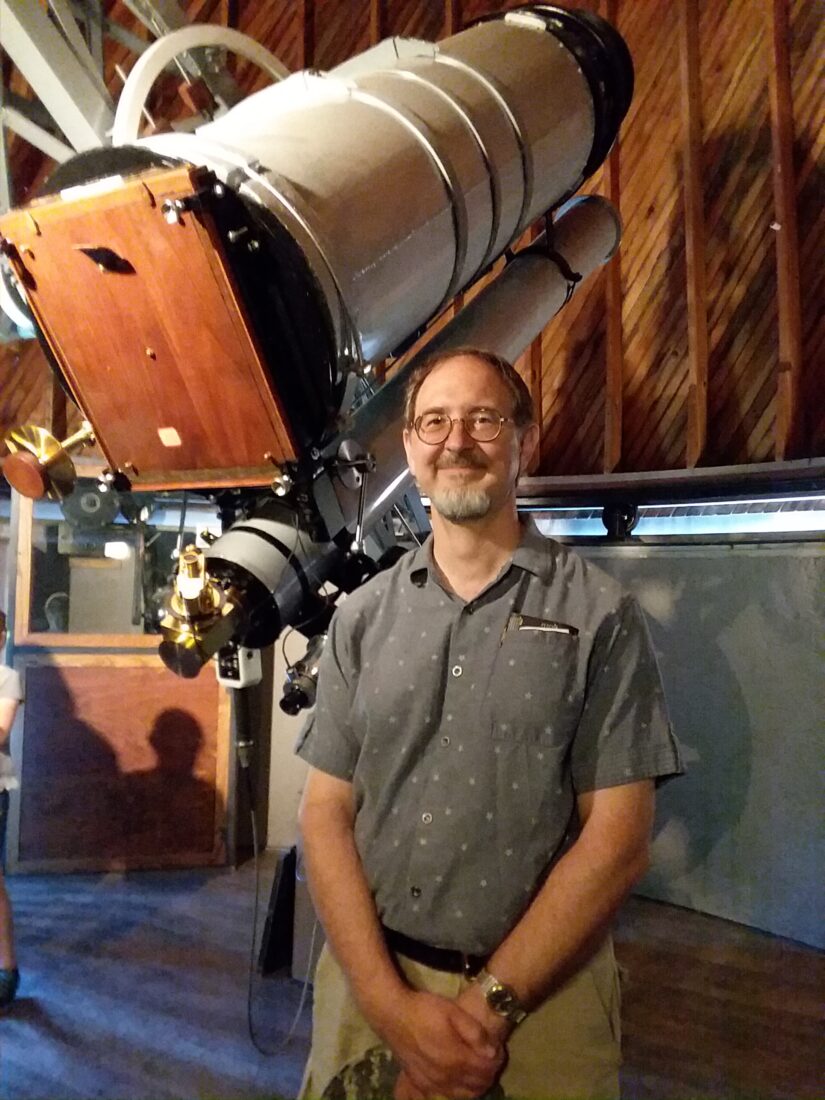 Worthey is currently an associate professor of physics in the Department of Physics and Astronomy at Washington State University. His research interests include stellar populations in external galaxies, observational cosmology and galaxy formation, and theoretical models of stellar populations. After graduating from Casper College, Worthey headed to the University of Wyoming, receiving a B.S. in astronomy. He finished his education at the University of California, Santa Cruz with an M.S. and a Ph.D. in astrophysics.
During his time at UCSC, his Ph.D. adviser was National Medal of Science winner Sandra M. Faber, Ph.D. "Guy Worthey is one of my most distinguished students and also one of my favorite people," she said. According to Faber, Worthey's Ph.D. thesis " … was truly groundbreaking." Modeling the effects of stellar population age and chemical composition on the spectra of galaxies, Worthey's thesis showed that " … measuring two carefully chosen spectral features would allow one to determine age and composition separately. Guy's method and his calibration have been used by dozens of astronomers, and the results have allowed us to determine accurate ages and chemical compositions of stars in distant galaxies for the first time," said Faber.
Paula Coelho, Ph.D., an associate professor at the Universidade Cruzeiro do Sul in São Paulo, Brazil noted that Worthey " … has shown me that you do not have to be a rough person to be an excellent scientist. He is a gift to our community."
While contributing to scholarly papers including "(P)reheating Effects of the Kähler Moduli Inflation I Model" and "Hot Star Extension to the Hubble Space Telescope Stellar Spectral Library," he is also a multi-talented musician, actor, and writer.
Worthey plays piano, trombone, and bass guitar. He played electric bass in the Jack Keller Quintet and with the jazz group The Unusual Suspects. He sings in his church choir and regularly plays bass and other instruments during worship services. Worthey also joins his classically trained violinist wife, Diane, on the keyboard, bass, and other instruments playing at weddings, funerals, church, and local coffee shops. He has played the Scarecrow in "The Wizard of Oz" and performed in the plays "Guys and Dolls," and "White Christmas" put on by the local community theater.
In addition, Worthey is the author of the successful adventure series Ace Carroway. According to Amazon, the Ace Carroway series is " … a steampunk-histfic-scifi romp that follows the action-packed perils of a female pilot-doctor-musician and her five assistants. The latest in the series is titled "Ace Carroway and the Ghost Liner — The Adventures of Ace Carroway Book 7," which came out in late Nov. 2021.
"A Wyoming Child, I love words and the natural world," wrote Worthey in his blog Guy Worthey — Author of the Ace Carroway Series. "In mid-career as an astrophysicist, I study galaxy evolution, and I know a fair bit about spectroscopy," he wrote. Worthey uses his blog as a way to explore more topics where he discusses " … science, writing, music, critical thinking, and I slip in updates on Ace Carroway, adventurer extraordinaire."
The Casper College Distinguished Alumni are outstanding individuals who have made extensive contributions to their professions or have participated in humanitarian and philanthropic work. They display integrity of character that makes all alumni proud to be associated with such persons.
Nominate a Distinguished Alumni Now!
Your gift to Casper College opens the door of opportunity for our students. Whether you make a gift in support of scholarships, our faculty, an academic program, or the greatest needs of the University, your generosity has a profound and lasting impact.
The student emergency fund will help address COVID-19 related hardships faced by our students, such as helping cover unmet financial costs due to loss of employment, assisting students who may need to travel home, or aiding in any educational-related expenses.
Students need assistance now more than ever to attain their college goals. No gift is too small and every dollar makes a difference.