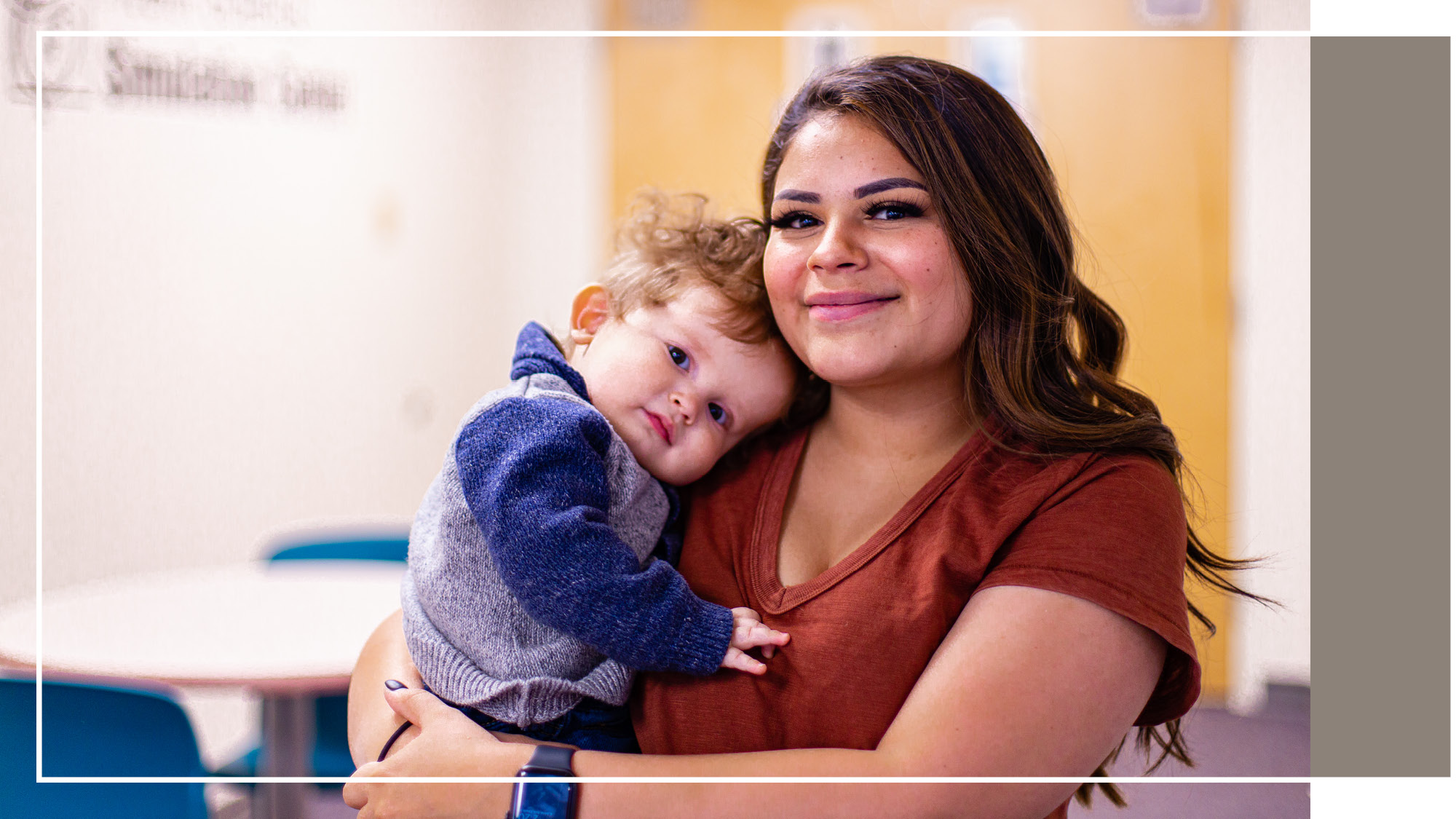 They say becoming a mother changes you- for Alanha Osseiran it makes you more determined to reach your full potential. Osseiran's young life was filled with obstacles. Spending the majority of her childhood in foster care, she was returned to her family when she was 16. Life back with her parents was difficult. There were few boundaries and little support, so she dropped out of school in order to work a full-time job. She made an attempt to finish high school when she was 18, but the pressure of working and paying rent was too much. After her son Daxton was born, her future became more clear. She wanted a better life for him than she had for herself. "I didn't want him to ever have to worry about where we were staying if there was food or basic necessities like toilet paper like I had when I was younger."
Osseiran knew that her high school degree would be essential if she was going to obtain a better life for her and her son. She came to the Lee and Felicia Castellow Adult Learning Center to prepare and take her HiSet exam. The HiSet is a test that demonstrates the graduate has the same skills and knowledge as a high school graduate. During her time studying for the exam, she realized that she loved math. "I always hated math in school and was so confused in class, but while studying I could actually see myself learning and getting better, and it wasn't nearly as confusing as I thought it was before."
As a new mom, the program wasn't without its challenges. Osseiran's time with Daxton was important and she had to learn how to juggle being a mom, her job, studying- it was a lot, but she was able to pass all of her tests and graduated on October 25th, 2020. Because she worked hard, she finished the program in a month and half. She was pleased with how much she already knew and how fast she was able to fill the gaps in her knowledge needed to pass the exam.
Her goals are higher than just passing the HiSet, she has always wanted to be a nurse. Less than a month after passing her HiSet she started taking CNA classes. She decided on becoming a CNA after attending Smart Start which is part of the program included in the HiSet learning. It teaches students about college and career pathways that are available to them after graduation. She will be finished with the CNA program in November 2020. A job as a CNA will help support her and Daxton while she works towards applying to the nursing program at Casper College. She is excited about the future, and she knows that she can achieve her goals to make a better life for her and her family.
Your gift to Casper College opens the door of opportunity for our students. Whether you make a gift in support of scholarships, our faculty, an academic program, or the greatest needs of the University, your generosity has a profound and lasting impact.
The student emergency fund will help address COVID-19 related hardships faced by our students, such as helping cover unmet financial costs due to loss of employment, assisting students who may need to travel home, or aiding in any educational-related expenses.
Students need assistance now more than ever to attain their college goals. No gift is too small and every dollar makes a difference.