Expanding Creativity in 2022!
As Wyoming's first community college, Casper College has seen many successes throughout its 75 years. On June 5, 2021, we will celebrate Casper College's impact on our current students, alumni, and community. Join the Casper College Foundation and Alumni Association as we look back and celebrate how far the college has come!
Our Beginning
Our students and the community have consistently benefited from the offerings at Casper College since its opening on September 17, 1945. That year, Casper College, known then as Casper Junior College, began on the 3rd floor of Natrona County High School under Dean, Maurice Griffith. The first classes commenced with 73 daytime students and 83 evening students.
In the fall of 1955, Casper College moved out of Natrona County High School into its brand new $800,000 building on the present-day campus. Nearly 415 students attended classes that year, a record-breaking number. By the 1960s, the campus housed three structures on 30 acres and boasted 750 students. The Casper College Foundation, established in 1963, has been instrumental in ensuring the college has the resources it needs to provide a top-notch education for its students, even during tough economic times.
Campus Growth
Over the past 75 years, Casper College's campus has grown to 28 buildings on more than 200 acres in central Casper. As one of the largest and most comprehensive community colleges in the region, Casper College now offers more than 140 academic transfer and technical career programs to nearly 5,000 students.
Growing a campus to this size has been no small feat and has required the support of generous alumni, community members, and our exceptional faculty and staff. The addition of recognizable buildings supports the demand for higher education, more diverse programs, and a growing student population.
Thanks to a community of incredible donors, the Life Science Building was fully funded and completed in 1972, propelling Casper College into the future and opening the doors to more expansion in the years to come. In 1980, we saw the new Goodstein Library open for students and community members to study and expand upon ideas captured during lectures and class studies. Then, the Gertrude Krampert Theatre opened in 1985, dedicating an entire facility to the performing arts.
A Bright Future
More space, upgrades, and construction have resulted in the beautiful campus you see today. We are excited to see where the next 75 years take this beloved college. Scholarships and financial contributions to the college have grown tremendously along with the college's physical space. Today, the foundation awards over $1.2 million in scholarships to students each year. Additionally, the foundation helps fund needed and ongoing programs. The foundation also helps fund building upgrades and construction through the support of our donors, including the new visual arts building set for completion in 2022. This would not be possible without the people who believe in the work we do and the mission to provide the highest education and tools for success to each student that comes through our doors.
On June 5th, the Casper College Foundation and Alumni Association is holding a gala to celebrate Casper College's rich 75-year history. The celebration will also honor 25 Exemplary Alumni who embody the excellent education Casper College provides. The limited tickets are $50 per person and can be purchased from the foundation online at caspercollegefoundation.org/75th-invitation or by calling 307-268-2256.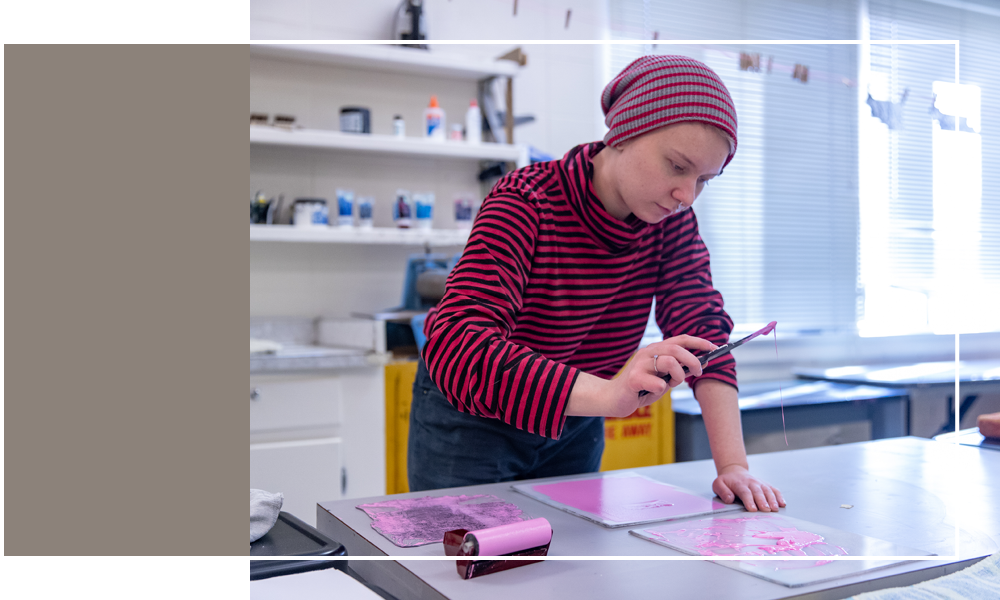 Art students will have an opportunity to expand their creativity in a space designed to maximize their potential. With state of the art equipment and spaces combined with our talented faculty, the student's only limits will be their own imagination.
Why a new visual arts center?
Much has changed in the 40 years since the current visual arts building was constructed. Advances in technology, growing class sizes, and new artistic techniques mean the facility is no longer meeting the needs of students pursuing a career in the arts. Casper College is committed to offering the space and the equipment to accommodate all people seeking a connection to the arts.
The new Visual Arts Center will allow students to study visual arts principles for meaningful participation in society, providing more opportunity for creative expression, cultivating visual literacy and discourse in the humanities, plus benefit economic development in and around Casper. Whether you are an art student, an art enthusiast, or just enjoy exploring your creativity, the new Visual Arts Center at Casper College will offer endless opportunities for students, faculty and staff, and the surrounding community to realize all the benefits that the visual arts provide.
You're donation will help inspire creativity.
The new Visual Arts Center at Casper College will provide endless opportunities for creative expression through the arts.

When students are given the opportunity to be creative, there is no limit to what they can achieve! Please join Casper College and the Casper College Foundation in our pursuit to build a new visual arts center. The new center will provide our students and faculty, as well as the surrounding community, the ability to explore the visual arts to their fullest.
Keep me informed on the progress of this exciting new endeavor.
Your gift to Casper College opens the door of opportunity for our students. Whether you make a gift in support of scholarships, our faculty, an academic program, or the greatest needs of the University, your generosity has a profound and lasting impact.
The student emergency fund will help address COVID-19 related hardships faced by our students, such as helping cover unmet financial costs due to loss of employment, assisting students who may need to travel home, or aiding in any educational-related expenses.
Students need assistance now more than ever to attain their college goals. No gift is too small and every dollar makes a difference.